Kolossus | Big Dog Carrier & Backpacking Pack
Completely redesigned in appearance, construction, and functionality, the Kolossus, formerly known as the Rover 2, is THE big dog backpack carrier that now doubles as a backpacking pack. It is ideal for carrying medium to large dogs and available in sizes L-XXL. Kolossus technology is top of the line in pet/human safety and comfort. Adjustable shoulder/torso sizing makes this backpack more suitable than ever for all body types (as long as you can withstand the weight). When you're not carrying your 4-legged friend, the backpack easily converts to carry your gear with up to 60 liters of space. Use this backpack for strenuous hikes, bike rides, and public transit.
For Dogs Ranging 20-80 lbs (9-36 kgs)
50-60 liter capacity
Features
Backpacking Pack Conversion
Adjustable Shoulder/Torso Height
Removable Lap Belt with Hip Pockets & Waste Bag Dispenser
Internal Frame with Inner Padding for Dog Comfort
Padded Back Panel with Increased Airflow
Removable Storage/Dog Back Support Pack with Hydro Port
Weight Distribution Straps
Side Cooling Venting Zippers
Wide Base to accommodate your pet and its tail
Detachable Dog Sun/Rain Hood
Dog Lumbar Support Straps
300D Ripstop Oxford Polyester Material
Matching Hook & Loop Strip for Custom Patch
Compare K9 Sport Sack Carriers
Safety
All K9 Sport Sack carriers are specially developed under the close direction of animal professionals, veterinarians, dog trainers, and outdoor product engineers to be ergonomic, safe, and strong.
Large dog backpack works!
Finally found something to take my dog with me on my Harley. He absolutely loves the experience. The Kolossus K9 Sport Sack (X-Large) fits my 55 lb mix breed chocolate lab / Australian shepherd perfectly.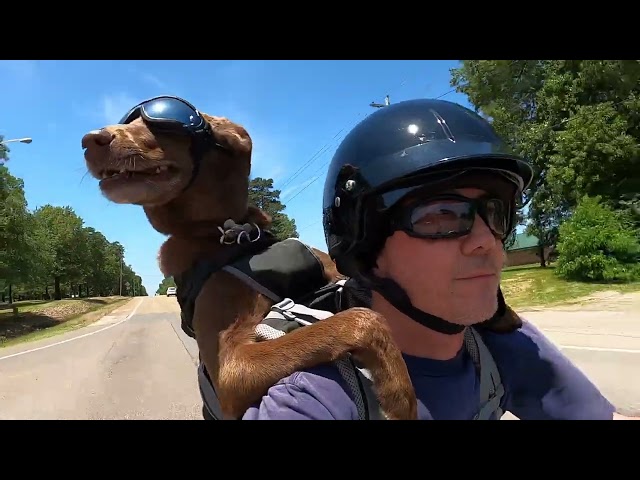 A beautiful option for dogs with disabilities
My review is a bit unique in that I didn't get this rucksack to give my dog a break or for an ageing dog… I'm fostering a puppy that was scheduled for euthanasia because he was overbred (blue nose pit) and ended up having congenital bilateral elbow luxation. We waited for 2 months to see a specialist at UC DAVIS just for them to say they can't help him. He army crawls everywhere which is adorable but hurts him tremendously. This little guy has such an incredible spark and will to live that I wanted to give him the life he's fighting for. They advise you to wait until the dog is full grown before buying their product but I wanted him to get used to it young, to associate the backpack with freedom and no pain, and to be honest, I don't know how much time he has so I bought the colossus and the booster pad so we could get to living! He is 40 lbs and so long! He fits the size well with the booster and is so calm when we walk. I'm going to walk with him a few times a week to build up my own strength because his weight will probably double to 80lbs. I would gladly break my back to help him have the life of adventure he deserves. We all deserve that chance. Anyhow, I'm working out some ergonomic fitting issues with the strap tightness and him liking to shift his weight but it isn't too bad! I'm stoked to have the opportunity to do this, and it was worth spending money I don't have to make it happen.
OBE IN THE SACK
I bought this product when my service dog turned 13. He developed arthritis in all four legs.
Being that I'm disabled with back and neck injuries, I decided that even though he was only 30 pounds I would go with the top-of-the-line kolossus backpack.
What sold me on it was the fact that the shoulder harness system height could be adjusted and it had good padding especially in the waist hip belt.
Being only 5'2" allows me to adjust the system so that the hip belt rest comfortably on my hip bones.
Of course Obe winds up higher in the air, but it is nice to feel his legs and paws on top of my bald head to rub. Everyone I ask says he looks very comfortable up there.
I definitely have no qualms about recommending this product.
We love our K9 bag! We recently got a puppy and at 5mths old we were heading on a trip wanting to do a lot of hiking and didn't want to leave anyone behind. We found this bag, ordered what we thought would be the best for her breed/size totally guesstimating (seberian husky) went with Kolossus. Rolled up a towel and stuffed it in the bottom to make it fit while she grows. Got it when she was 3mth and have been practicing. She loves the bag, I feel it is very secure and comfortable for both the dog and me!!! Highly recommend