Kolossus | Big Dog Carrier & Backpacking Pack
Completely redesigned in appearance, construction, and functionality, the Kolossus, formerly known as the Rover 2, is THE big dog backpack carrier that now doubles as a backpacking pack. It is ideal for carrying medium to large dogs and available in sizes L-XXL. Kolossus technology is top of the line in pet/human safety and comfort. Adjustable shoulder/torso sizing makes this backpack more suitable than ever for all body types (as long as you can withstand the weight). When you're not carrying your 4-legged friend, the backpack easily converts to carry your gear with up to 60 liters of space. Use this backpack for strenuous hikes, bike rides, and public transit.
For Dogs Ranging 20-80 lbs (9-36 kgs)
50-60 liter capacity
Features
Backpacking Pack Conversion
Adjustable Shoulder/Torso Height
Removable Lap Belt with Hip Pockets & Waste Bag Dispenser
Internal Frame with Inner Padding for Dog Comfort
Padded Back Panel with Increased Airflow
Removable Storage/Dog Back Support Pack with Hydro Port
Weight Distribution Straps
Side Cooling Venting Zippers
Wide Base to accommodate your pet and its tail
Detachable Dog Sun/Rain Hood
Dog Lumbar Support Straps
300D Ripstop Oxford Polyester Material
Matching Hook & Loop Strip for Custom Patch
Compare K9 Sport Sack Carriers
Safety
All K9 Sport Sack carriers are specially developed under the close direction of animal professionals, veterinarians, dog trainers, and outdoor product engineers to be ergonomic, safe, and strong.
New Hampshire hike
Went to the white mountains in NH. I knew the hike would be a little ruff after a while my puppy had enough thankfully we had this bag.Best investment when hiking hard terrain. If it wasn't for this bag I wouldn't have known what to do. So glad I bought this last minute. Using the block at the bottom made it comfortable for my 5 month old Australian shepherd. It made it possible to do hard rock scrambles. You need to practice with your dog before hand to get them comfortable and if you are short this bag will be hard. When trying up or down large jumps the bag might bottom out.
Changed our lives
This backpack has changed our lives. Thanks to it, we can finally spend our vacations and free time together - all three of us, without leaving our four-legged daughter at home alone.
Our 8-year-old Lia gets tired rather quickly, she is not fond of long treks, she much prefers swimming and running after a ball. Each of our previous vacations consisted of short walks and throwing the ball in parks. Thanks to the purchase of this backpack, Lia can share our passions - mountain hiking. She's comfortable there, she watches the surrounding landscapes with curiosity, and most importantly - as soon as she sees us getting ready to put her in, she gets very excited and even adopts a special pose to make it easier to put her in there! K9 sport sack is the best purchase of our lives! The only remark - it is too big for our mutt (dachshund/terrier mix, weight 14kg). We chose the size L, and despite putting a booster block, we need an extra cushion to make Lia comfortable. For next season we will definitely buy a smaller model. Greetings from Poland!
Large dog backpack works!
Finally found something to take my dog with me on my Harley. He absolutely loves the experience. The Kolossus K9 Sport Sack (X-Large) fits my 55 lb mix breed chocolate lab / Australian shepherd perfectly.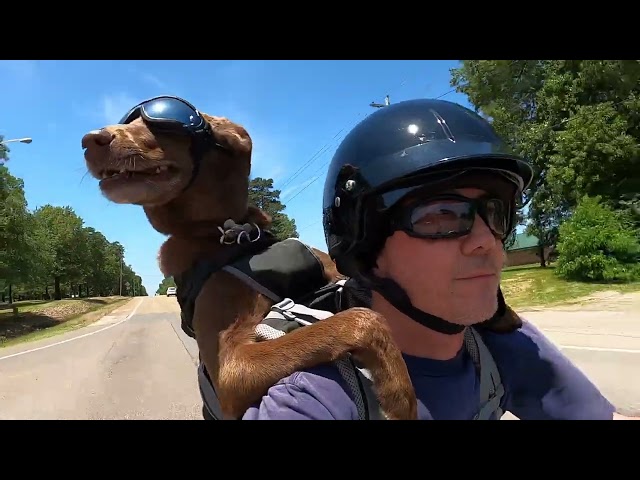 A beautiful option for dogs with disabilities
My review is a bit unique in that I didn't get this rucksack to give my dog a break or for an ageing dog… I'm fostering a puppy that was scheduled for euthanasia because he was overbred (blue nose pit) and ended up having congenital bilateral elbow luxation. We waited for 2 months to see a specialist at UC DAVIS just for them to say they can't help him. He army crawls everywhere which is adorable but hurts him tremendously. This little guy has such an incredible spark and will to live that I wanted to give him the life he's fighting for. They advise you to wait until the dog is full grown before buying their product but I wanted him to get used to it young, to associate the backpack with freedom and no pain, and to be honest, I don't know how much time he has so I bought the colossus and the booster pad so we could get to living! He is 40 lbs and so long! He fits the size well with the booster and is so calm when we walk. I'm going to walk with him a few times a week to build up my own strength because his weight will probably double to 80lbs. I would gladly break my back to help him have the life of adventure he deserves. We all deserve that chance. Anyhow, I'm working out some ergonomic fitting issues with the strap tightness and him liking to shift his weight but it isn't too bad! I'm stoked to have the opportunity to do this, and it was worth spending money I don't have to make it happen.